Storage Tanks
---
We are Manufacturer, Supplier and Exporter of Storage Tanks. This product is also known as Stainless Storage Tanks, Mobile Storage Tanks, Jacketed Storage Tanks, Pressured Storage Tanks and our setup is situated in Aurangabad, Maharashtra, India. Our customers explain to us their needs and we have the required information for providing and fulfilling the needs of customer.
Umasons delivers customized storage vessels and tanks ( plane, jacketed and insulated ) over the base material in SS 316 and SS 304.
For e.g. A storage vessel designed by us with a capacity of 20000 liters designed to withstand 4kgs / cm. sq. internal pressure.
Once again, a storage tank made in SS 316 with a capacity of 13,000 liters, custom-made as per customer specifications to be used for a sterile process.
The tank has is mirror-finished internally and externally. This tank has been designed to withstand vacuum and 4 Kgs / cm. sq. pressure.


---
---
Fermentation & Blending Tanks
Umasons has been manufacturing high quality tanks for the wine and distillery industries for the last 20 years. We ensure the right tank is chosen for each application and is fitted with the correct accessories. Various volumes, sizes, vertical or horizontal position, varying wall thickness can be manufactured to suit your specification. Our thin walled tanks are made with a dimpled jacket. This provides the best results and efficiencies in cooling and fermentation process. The tanks enable color & flavor extraction, keeps fermenations healthy and help to maintain uniform temperature. All our tanks are made from tested grade stainless steel. The tanks are easy to clean with mirror finishes. and seamless moulding of weld.
---
Various Types of Storage Tanks
Horizontal Flat Ended Storage Tanks


Horizontal


With or without saddle support


Can be used over ground / underground storage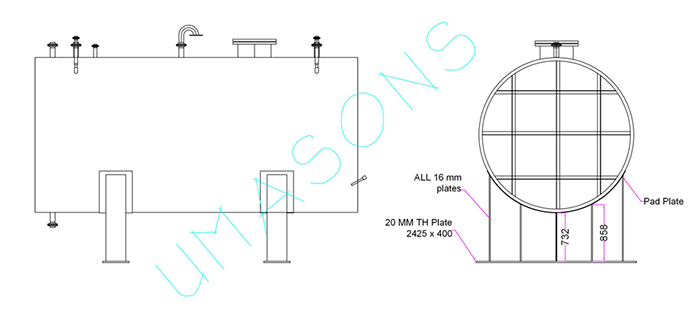 ---
Flat Bottom Conical Top Storage


Standard Construction


Flat Sloping Bottom


Mounted on RCC Base or Structural Base


Capacity from 5000 Liters to 50,000 Liters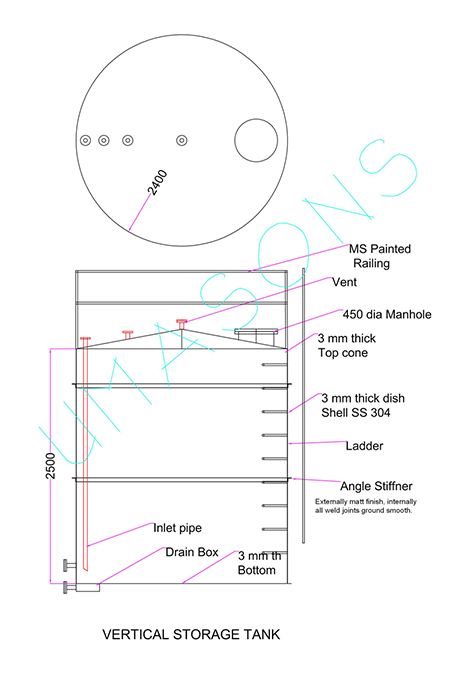 ---
Horizontal Pressurised Storage Tank


Tanks with Both Dished End


Can Take Pressure and Vacuum


Can Be Manufactured With Simple / Dimple Jackets for Heating and Cooling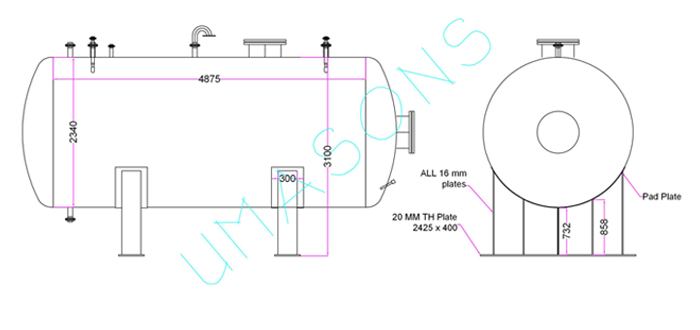 ---
Horizontal Pressurised Storage Tank With Mixing :


Can Be Manufactured With Simple / Dimple Jackets for Heating and Cooling


Agitator For Keeping Suspension or Increasing Heating or Cooling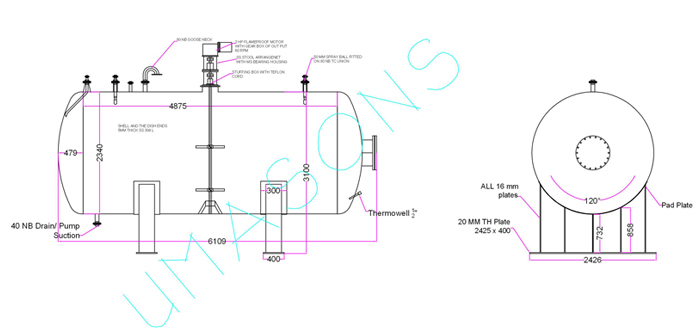 ---
Flat Bottom Dished End Storage Tank


Vertical Storage Tank with Minor Pressure


Available Up o 25000 Liter Capacity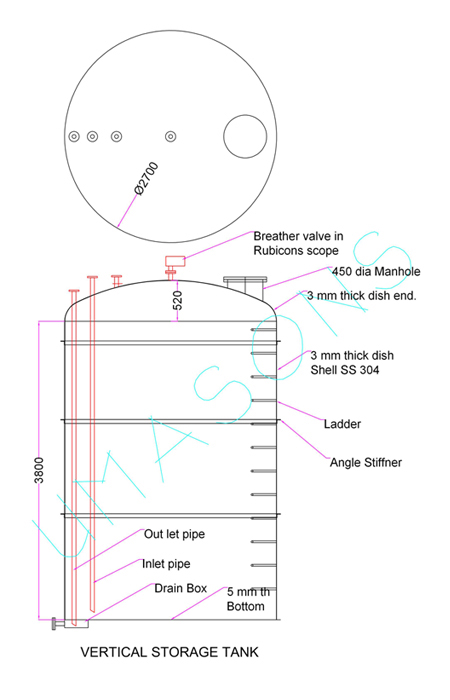 ---
Vertical Blending Tanks


For Blending of Alcohols


Downwards Agitator


Dishe Bottor For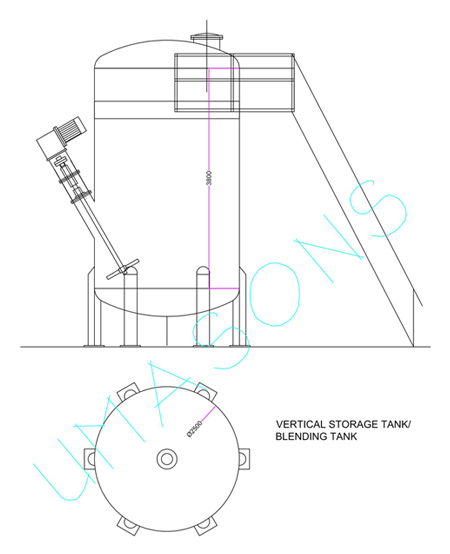 ---
Vertical Blending Tanks


Side Entry Horizontal Agitator


Tanks with Vetury Mixers


Tanks with Strong Ventury Mixers


Minimum Maintainence


Complete System Available


Gasification Tank for ETP


Capacity-10, Lakh liter


With Glass hoods


And Gas Handling System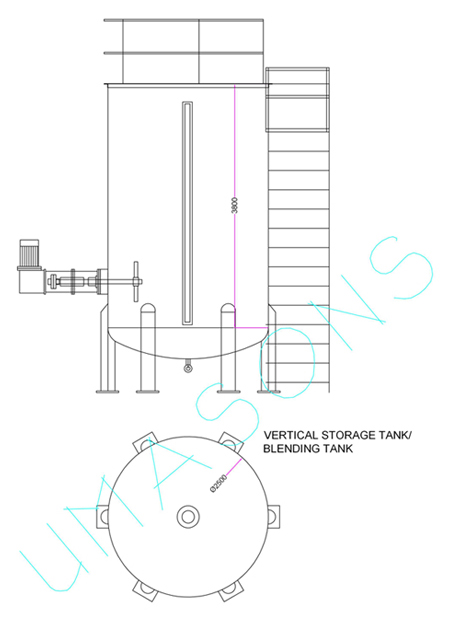 ---