+
Change Room / Clean Room Furnitures
---
Stainless Steel Lockers
We are Manufacturer, Supplier and Exporter of Clean Room Furniture also called as Pharmaceutical Furniture, Stainless Steel Furniture and our setup is situated in Pune, Maharashtra, India. We manufacture a large variety of lockers to suit your space and utility requirements. We can also provide lockers with an in-built facility for suction that can be used for removing bad odours. These lockers bank can be fixed in a way that it matches your interiors exactly without leaving any gaps in the available areas
We can give you options for the desired finish, they can be powder coated with the base of MS or they can be built of stainless steel. These lockers can also be tailor-made to fit only valuables or made as small as pigeon-holes that can be fixed on the walls where there is a shortage of space

Shoe Cupboards
We manufacture shoe racks in different sizes and combinations. These shoe racks are fitted with doors and have built-in suction to remove false odour. Such ventilation means help keep your change room areas clean and fresh.

---
Visitors aperon cupboards
Wall mounted Pegion Hole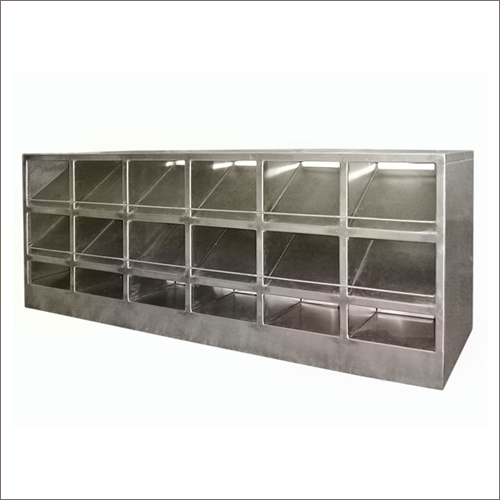 Slanting Cross Over Benches single sided can on both sides
---
Cross Over Benches
We can make a variety of cross-over benches,closed from all sides, Simple bench, one side shoe rack and other side closed, Both side shoe racks, Slanting shoe racks, z type shoe Bench and so on.

Gowning Cabinets
Versatile cabinets manufactured by us provide ample storage space to help your employees comply with proper gowning protocol

Dust Bins
We manufacture stainless steel dustbins in varied sizes. These are ideal for disposal of garbage and are almost self-maintained. They can be widely used in various industry sectors.

Soiled Linen Trolleys
Linen trolleys are available in various sizes and specifications to suit your requirements. We also provide you with trolleys that use a standard cloth bag to collect contaminated laundry

Linen Racks
We can provide solutions that can accommodate garments, masks, gloves and a variety of linen.


---
---